Lille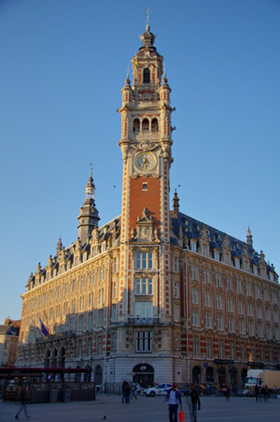 With over 226 000 inhabitants, the city of Lille and its suburbs, Hellemmes et Lomme, is the biggest city of the North of France. Heart of an agglomeration of 87 suburban towns, Lille and its belgian neighbours amount to over 1.9 million inhabitants for the whole Euro-region.
This most privileged geographic situation, is enhanced thanks to a very concentrated network of transports that makes of Lille a gate to Europe.
It is the whole of Europe that is attracted by the metropole of Lille, its quality of life, its economic and cultural dynamism, its festive energy. More tourists every year come and discover the city and contribute to its fame. With over 14 000 new inhabitants since the last population census in 1999, Lille benefits from a dynamic demography and holds the second rank in France for population increase.
Labelled city of Art and History since 2004, Lille has conserved from a rich past, many monuments, whether civil or religious : the « Citadelle », one of the most beautiful examples of a XVIIth century military architecture, built by Vauban; the old Bourse, vestige of Spanish occupation that is a testimony of a French and Flemish cultural melting pot ; There is also the " Grand Place", center of the city's festive activity, and its goddess, that symbolizes the resistance against the Austrians in 1792 ; there also is the " Porte de Paris", the "Monnaie" street where coins used to be stamped.
Raise your head and you will discover angels carved into the stone, guardians of facades that are sometimes made of pink bricks and white stones. You will also see old scultped signs that craftsmen affectionated. The Rihour palace, old residence of the Dukes of Burgundy was destroyed by fire in 1916. There only remains a small part of the palace, where today, the tourist information office is established.
Virtual visit of Lille : http://visitelille.e-fijy.com/